ZeroPlastic is a transformative movement, a beacon of hope in the battle against plastic pollution. It's not just an organization; it's a passionate community united by a singular purpose: to eradicate plastic waste and pave the way for a sustainable future. In our mission to make World Cleanup Day a resounding success, we are privileged to be joined by our main partners who are at the forefront of the sustainability movement. These dedicated partners include the Central Environmental Authority (CEA), the Colombo District Club, and our valued main sponsor, Star Garments. Their unwavering support and collaborative spirit play a pivotal role in our collective endeavor to combat plastic pollution. Together, we are setting the stage for a cleaner, greener future through World Cleanup Day.
In a momentous partnership that promises to make a significant impact on environmental conservation, ZeroPlastic Movement is proud to announce its collaboration with Cinnamon Hotels & Resorts for World Cleanup Day 2023 in Sri Lanka. As venue sponsors, Cinnamon Lakeside, a flagship property of Cinnamon Hotels & Resorts, is set to play a pivotal role in supporting ZeroPlastic Movement's mission to eliminate plastic pollution.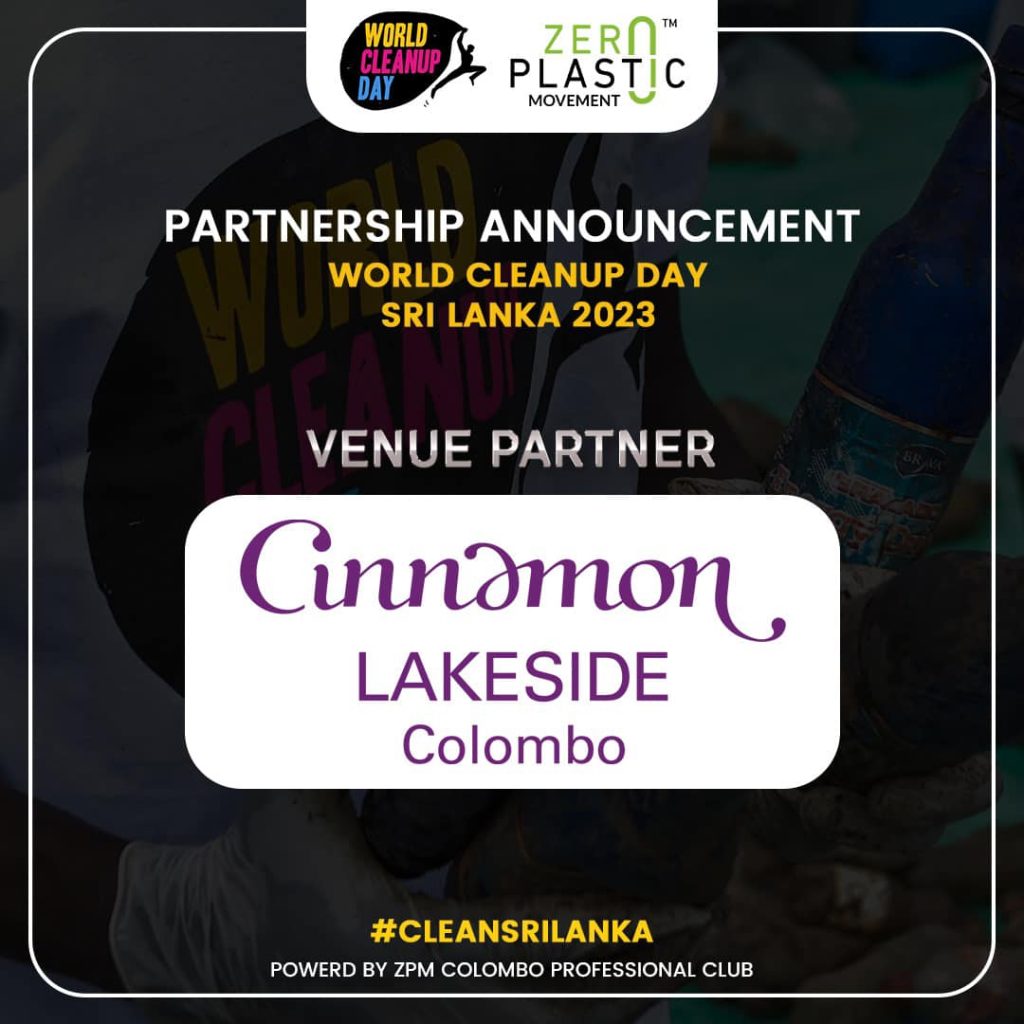 This inspiring collaboration has been orchestrated in conjunction with the Central Environmental Authority, and together, they have laid out an ambitious plan to conduct a staggering 1000 cleanups across the nation. These cleanup efforts will culminate in a grand finale event scheduled for the 16th of this month at the prestigious Cinnamon Lakeside hotel.
ZeroPlastic Movement, a non-profit organization dedicated to the eradication of plastic pollution, has been at the forefront of advocating for sustainable practices and raising awareness about the pressing need to reduce plastic usage. Their partnership with Cinnamon Hotels & Resorts is a testament to the shared commitment of both organizations towards creating a cleaner, healthier planet.
Cinnamon Lakeside, nestled in the heart of Colombo, is known not only for its luxurious accommodations and world-class hospitality but also for its unwavering dedication to environmental responsibility. By taking on the role of venue sponsor for World Cleanup Day 2023, Cinnamon Lakeside is demonstrating its deep commitment to sustainable practices and its role as a responsible corporate citizen.
This collaboration between ZeroPlastic Movement, Cinnamon Hotels & Resorts, and the Central Environmental Authority is a shining example of what can be achieved when like-minded organizations come together for a common cause. It showcases the power of partnership and collective action in addressing the pressing issue of plastic pollution.
ZeroPlastic Movement extends its heartfelt appreciation to Cinnamon Lakeside and Cinnamon Hotels & Resorts for their invaluable support in this endeavor. Together, they are taking concrete steps toward a plastic-free world, setting a positive example for others to follow.
As the world eagerly awaits World Cleanup Day 2023 in Sri Lanka, there is a palpable sense of optimism that this collaboration will serve as a beacon of hope and inspiration for similar initiatives worldwide. It is a reminder that when individuals and organizations unite in the spirit of environmental stewardship, the possibilities for positive change are limitless.