ZeroPlastic is a transformative movement, a beacon of hope in the battle against plastic pollution. It's not just an organization; it's a passionate community united by a singular purpose: to eradicate plastic waste and pave the way for a sustainable future. In our mission to make World Cleanup Day a resounding success, we are privileged to be joined by our main partners who are at the forefront of the sustainability movement. These dedicated partners include the Central Environmental Authority (CEA), the Colombo District Club, and our valued main sponsor, Star Garments. Their unwavering support and collaborative spirit play a pivotal role in our collective endeavor to combat plastic pollution. Together, we are setting the stage for a cleaner, greener future through World Cleanup Day.
As Sri Lanka eagerly awaits an influx of tourists at the end of this month, the nation is taking proactive steps to ensure a warm and welcoming experience for all. The heartwarming initiative that is set to sweep across the country is the "1000 Shramadana" campaign scheduled for the 16th of this month. This ambitious endeavor invites everyone, from schools and universities to government institutions, private companies, sports clubs, and youth groups, to come together and participate in a day of service to their communities and the nation at large.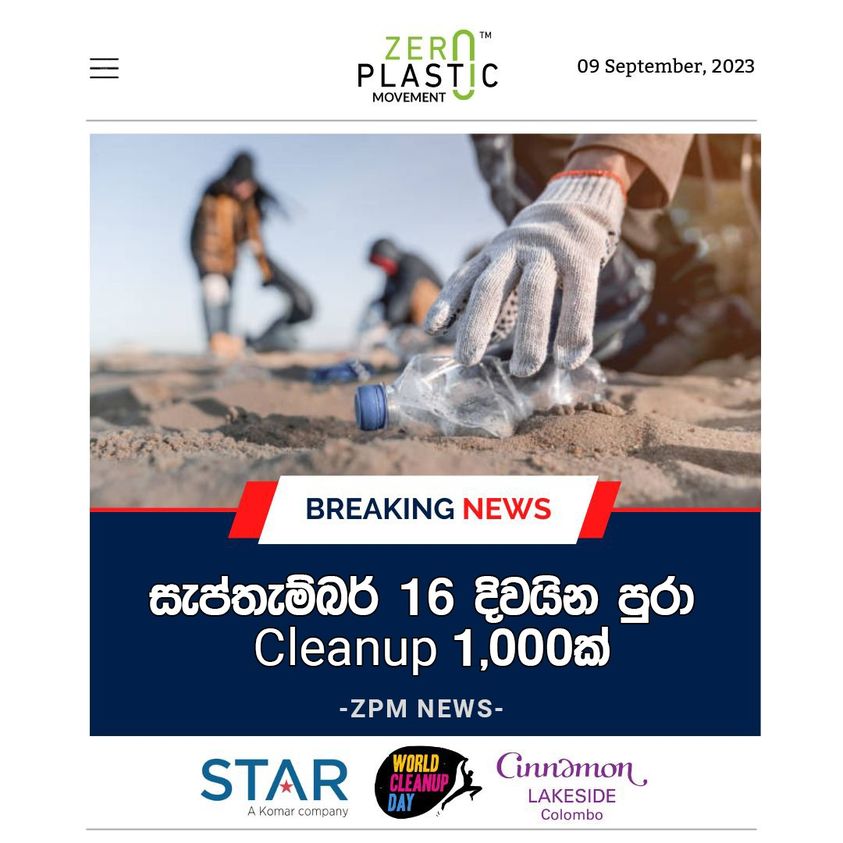 Shramadana, which translates to "voluntary labor" in Sinhala, is a concept deeply rooted in Sri Lankan culture. It embodies the spirit of selfless service, community engagement, and shared responsibility. The "1000 Shramadana" campaign aims to harness this spirit to showcase the nation's unity and readiness to extend a warm welcome to visitors from around the world.
Whether you are a student, a government employee, a business professional, a sports enthusiast, or simply a concerned citizen, there's a role for you in this nationwide effort. You can join hands with your fellow Sri Lankans to clean, beautify, and improve the areas where you live and work. It's an opportunity to give back to your community and contribute to the greater good.
The message is clear: Let's all dedicate just one day to make Sri Lanka a cleaner and more welcoming place for all. The collective impact of a thousand Shramadana events happening simultaneously across the nation will not only beautify Sri Lanka but also inspire a sense of pride and togetherness among its people. For those who are willing to contribute in other ways, such as donations, support, or guidance, there are avenues available. Simply reach out, and your assistance will be directed where it's needed most. For further information and details, visit us now www.zeroplastic.lk/wcd.
As Sri Lanka prepares to receive visitors with open arms, the "1000 Shramadana" campaign serves as a testament to the nation's commitment to hospitality, community, and unity. It's a powerful reminder that the spirit of service can bring about positive change and create a welcoming atmosphere that leaves a lasting impression on all who visit this beautiful island nation. Let's all join hands and make this endeavor a resounding success, one Shramadana at a time. Together, we can show the world the warmth and generosity that define Sri Lanka.