In a remarkable display of collective action and commitment, the ZeroPlastic Movement organized the ZeroPlastic සියනෑ Walk on July 9th. This transformative event aimed to eliminate plastic waste along roadsides, emphasizing the preservation of our invaluable natural environment.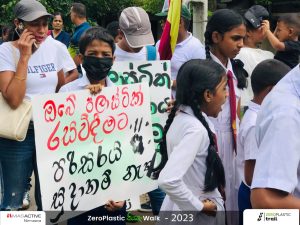 The walk, spanning a distance of 5.1 kilometers, attracted an impressive turnout of over 270 volunteers. Among them were university students, school students, families, and members of various institutions, all eagerly dedicated to the cause. The journey commenced at the Municipal Ground in Ja-Ela and culminated in Seeduwa, Keells.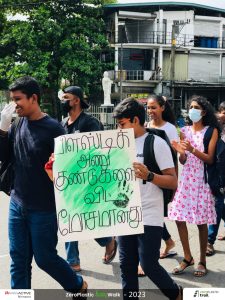 The efforts of these passionate volunteers yielded astounding results, as they successfully collected a staggering 55 kilograms of plastic waste from the roadsides. This achievement stands as a testament to the power of community-driven initiatives in combating plastic pollution.
To further engage and educate the public, a captivating street drama was organized by the university students of NISD and performed by the talented students of Bandaranayake College, Seeduwa. This theatrical production provided an artistic medium to raise awareness about the detrimental effects of plastic pollution and the urgent need for sustainable solutions.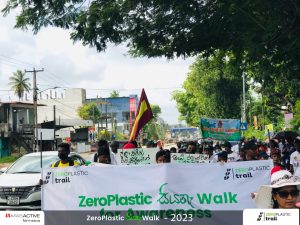 Central to the success of the ZeroPlastic සියනෑ Walk was the unwavering support and collaboration of key partners. MAS ACTIVE Nirmaana, a prominent organization, provided vital partnership and collaboration, showcasing their dedication to environmental preservation. Telemedia coverage was facilitated by ITN and Siyatha, ensuring extensive dissemination of the event's message. Mawbima, Thamizhan, and Virakesari newspapers served as media partners, amplifying the initiative's reach across diverse communities.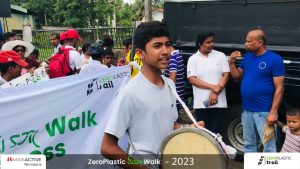 The meticulous planning and execution of the walk were spearheaded by a dedicated team of university students from NISD. Their commitment and tireless efforts ensured the smooth flow and overall success of the project. Their invaluable contribution exemplifies the potential for young leaders to drive positive change in society.
Beyond its immediate impact, the ZeroPlastic සියනෑ Walk stands as a powerful symbol of community solidarity in creating a sustainable world for future generations. By actively addressing plastic pollution, this initiative serves as an inspiration for society at large, reinforcing the urgency and importance of adopting sustainable practices.
The ZeroPlastic Movement's transformative event marks a significant milestone in the collective journey towards a plastic-free world. It underscores the significance of individual and collective responsibility in preserving our natural environment. By mobilizing communities, fostering partnerships, and raising awareness, the ZeroPlastic සියනෑ Walk paves the way for a brighter, cleaner, and more sustainable future.