Zero Plastic National Movement is delighted to highlight the remarkable efforts of the Zero Plastic Moment at Rajarata University of Sri Lanka, which recently conducted an influential school awareness programme in collaboration with an environmental pioneer. The event took place at Ranpathwila Maha Vidyalaya in Anuradhapura on May 24th, 2023, and left a lasting impact on the teachers and students who showed incredible dedication to protecting the environment.
The programme served as a significant step towards creating a sustainable future by addressing the pressing issue of plastic pollution. Zero Plastic Moment, an initiative led by Rajarata University, has been actively promoting sustainable alternatives and advocating for a plastic-free society. The collaboration with the environmental pioneer aimed to raise awareness among the younger generation about the urgency of tackling this global challenge.
The session at Ranpathwila Maha Vidyalaya was a resounding success, thanks to the enthusiastic participation of the students and the invaluable support of the dedicated teachers. The event brought together representatives from Zero Plastic Moment, the environmental pioneer, and the Ranpathwila Maha Vidyalaya community, creating an inspiring atmosphere of collective action.
Throughout the programme, a range of interactive activities engaged the students and fostered a deep understanding of the detrimental effects of plastic on the environment, wildlife, and human health. The students actively shared their perspectives, demonstrating a genuine commitment to finding innovative solutions to reduce plastic waste.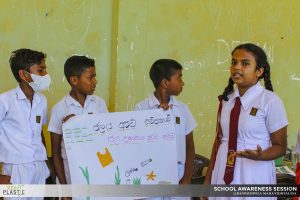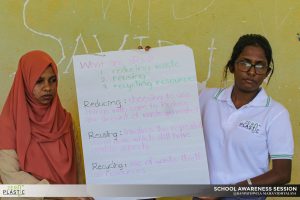 Practical demonstrations formed a vital part of the awareness programme. The students learned how to create eco-friendly alternatives to commonly used plastic items, empowering them to make conscious choices in their daily lives. The session also emphasized the importance of recycling and responsible waste management as key steps towards building a greener future.
The Zero Plastic Moment team at Rajarata University commends the exceptional dedication and active involvement of the students at Ranpathwila Maha Vidyalaya. Their passion for environmental protection is truly inspiring, and it reinforces the belief that change begins with the younger generation.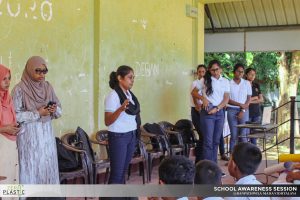 Zero Plastic National Movement is honored to share the success of this collaboration on our platform. The partnership between Zero Plastic Moment and the environmental pioneer, supported by the enthusiastic teachers and students of Ranpathwila Maha Vidyalaya, showcases the power of collective efforts in driving meaningful change.
We extend our appreciation to the Zero Plastic Moment team at Rajarata University, the environmental pioneer, and everyone involved in organizing this impactful awareness programme. Together, we are forging a path towards a sustainable and plastic-free future.
Join the Zero Plastic National Movement today and become part of the growing movement for change. Let us work hand in hand to eliminate plastic pollution and safeguard our planet for future generations.