ZeroPlastic is a transformative movement, a beacon of hope in the battle against plastic pollution. It's not just an organization; it's a passionate community united by a singular purpose: to eradicate plastic waste and pave the way for a sustainable future. In our mission to make World Cleanup Day a resounding success, we are privileged to be joined by our main partners who are at the forefront of the sustainability movement. These dedicated partners include the Central Environmental Authority (CEA), the Colombo District Club, and our valued main sponsor, Star Garments. Their unwavering support and collaborative spirit play a pivotal role in our collective endeavor to combat plastic pollution. Together, we are setting the stage for a cleaner, greener future through World Cleanup Day.
In a world that is increasingly focusing on environmental preservation and sustainable living, it is heartening to witness the proactive efforts of organizations and individuals who are committed to making a positive impact on our beloved country, Sri Lanka. As the tourism industry continues to flourish, it is our collective responsibility to ensure that the natural beauty and cleanliness of our nation are preserved for generations to come.
We are thrilled to announce an inspiring partnership between the Central Environmental Authority (CEA) and the ZPM Colombo Professionals Club to organize 1000 island-wide clean-up events on the 16th of September 2023, marking World Clean-up Day. This remarkable initiative aims to bring together communities from all corners of Sri Lanka to work hand-in-hand in pursuit of a cleaner, more beautiful nation.
Date:16th September 2023
Location: Nationwide
Partner: Central Environmental Authority (CEA)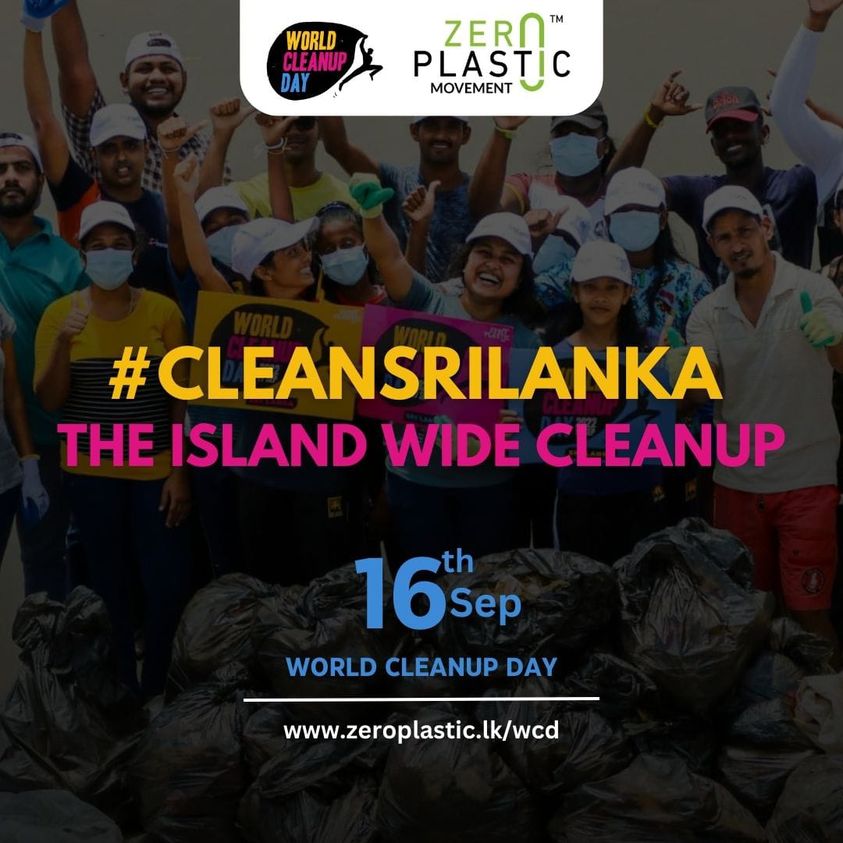 World Clean Up Day has become a global phenomenon, uniting millions of people worldwide in the shared goal of cleaning up their communities, raising awareness about waste management, and fostering a sense of collective responsibility towards our planet. This year, Sri Lanka is poised to make a significant contribution to this international movement, thanks to the tireless efforts of the ZPM Colombo Professionals Club and the invaluable support of the CEA.
To be a part of this incredible movement, all you need to do is register at www.zeroplastic.lk/wcd and encourage your friends and family to join you. Imagine the impact we can create when individuals, families, and communities across Sri Lanka come together for a common cause.
Powered by the ZPM Colombo Professionals Club, this endeavor reflects the dedication and passion of those who genuinely care about the well-being of Sri Lanka. Let's come together, hand in hand, to ensure a cleaner and more beautiful future for our country. It is through such collective efforts that we can pave the way for a greener, more sustainable, and prosperous Sri Lanka.
As the 16th of September approaches, mark your calendars and spread the word. Let's make World Clean Up Day 2023 a resounding success and a testament to our commitment to the betterment of Sri Lanka. Join us in this noble cause and be a part of the change you wish to see in our beautiful country. Together, we can create a lasting and positive impact that will benefit us all.